I enjoyed walking at the Pink Rocks the Runway event on Friday night in DC. The show was headlined by project runway designer, Christian Siriano. Most importantly, the evening celebrated and featured breast cancer survivors under 40 with a pink couture gown fashion show.
Towards the end, a special grant was provided to the Capital Breast Care Center (CBCC) in support of their important work. The Capital Breast Care Center, was chosen as the 2011 community grant recipient. It works to provide women in the Washington, DC area with mammograms and health screenings regardless of their ability to pay. CBCC is currently diagnosing breast cancer at two times the national rate.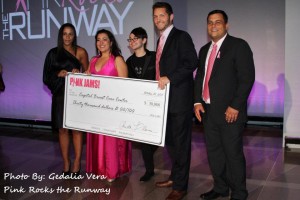 Facts about breast cancer:
1. 1 in 8 women will be diagnosed with breast cancer in her lifetime.
2. Women, ages 15-40 die more frequently from breast cancer than any other cancer.
3. Washington DC has the highest mortality rate from breast cancer in the nation.
4. Most national breast cancer organizations recommend mammography at age 40….
5. Mammography can detect breast cancer up to two years before you or your doctor can feel a lump.
6. The single largest risk factor to developing breast cancer is being a woman.
7. Men do get breast cancer. Annually about 2,000 men are diagnosed.
8. Early detection is key. The 5 year survival rate after early stage diagnosis and treatment is nearly 90 percent.
Message to readers:
Early detection is extremely important and it can save your life. Please visit the website's below to get more information.
www.pinkjams.org
www.bebrightpink.org
www.bebrightpink.org/programs/support-community/breast-self-exam-